Merhabalar,
Müşterimi V2'den V5'e yükselteceğim. Data yapıları v2 ve v5'de aynı olmadığı için SambaPOS V2 to V5 Migration kullandım, program yeni datayı oluşturdu fakat yeni dataya V5 üzerinden erişmeye çalıştığım zaman aşağıda resimlerini ve içerini paylaştığım hatayı alıyorum. V2nin versiyonu 2.99c, V5 ise 5.2.18. Daha önce bunu yaşayan oldu mu ?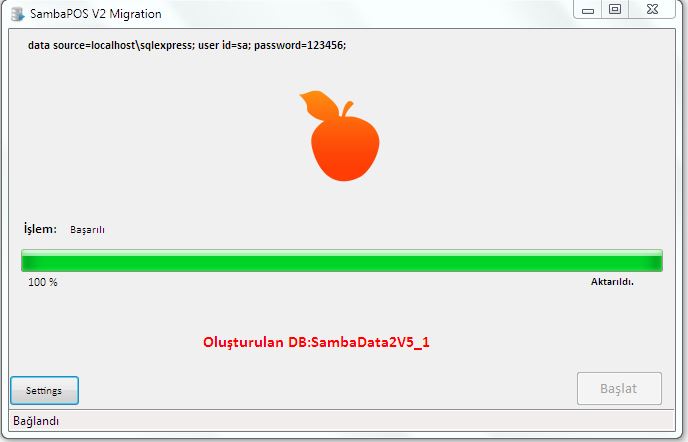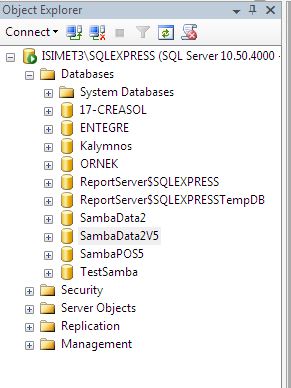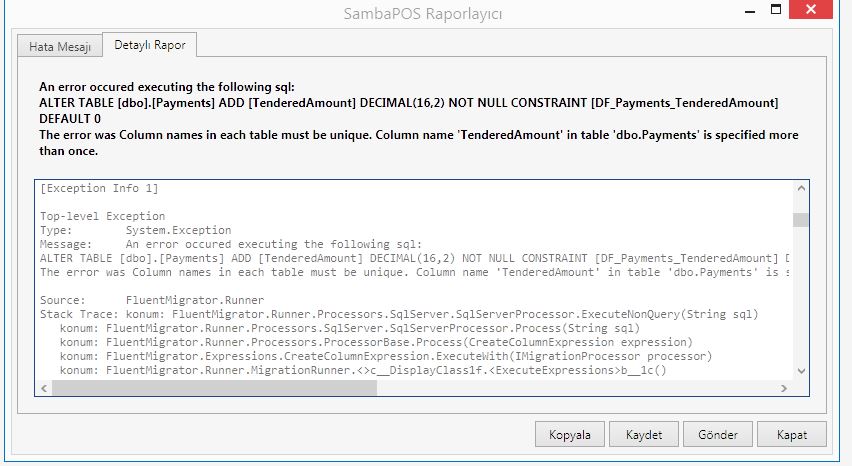 ---
[General Info]
Application: SambaPOS
Version: 5.2.18
Region: tr
DB: SQ
Machine: ACER
User: Acer
Date: 19.01.2019
Time: 15:09
User Explanation:
Acer said ""
[Exception Info 1]
Top-level Exception
Type: System.Exception
Message: An error occured executing the following sql:
ALTER TABLE [dbo].[Payments] ADD [TenderedAmount] DECIMAL(16,2) NOT NULL CONSTRAINT [DF_Payments_TenderedAmount] DEFAULT 0
The error was Column names in each table must be unique. Column name 'TenderedAmount' in table 'dbo.Payments' is specified more than once.
Source: FluentMigrator.Runner
Stack Trace: konum: FluentMigrator.Runner.Processors.SqlServer.SqlServerProcessor.ExecuteNonQuery(String sql)
konum: FluentMigrator.Runner.Processors.SqlServer.SqlServerProcessor.Process(String sql)
konum: FluentMigrator.Runner.Processors.ProcessorBase.Process(CreateColumnExpression expression)
konum: FluentMigrator.Expressions.CreateColumnExpression.ExecuteWith(IMigrationProcessor processor)
konum: FluentMigrator.Runner.MigrationRunner.<>c__DisplayClass1f.b__1c()
konum: FluentMigrator.Runner.MigrationRunner.AnnounceTime(String message, Action action)
konum: FluentMigrator.Runner.MigrationRunner.ExecuteExpressions(ICollection1 expressions) konum: FluentMigrator.Runner.MigrationRunner.ExecuteMigration(IMigration migration, Action2 getExpressions)
konum: FluentMigrator.Runner.MigrationRunner.ApplyMigrationUp(IMigrationInfo migrationInfo, Boolean useTransaction)
konum: FluentMigrator.Runner.MigrationRunner.MigrateUp(Boolean useAutomaticTransactionManagement)
konum: FluentMigrator.Runner.MigrationRunner.MigrateUp()
konum: FluentMigrator.Runner.Initialization.TaskExecutor.Execute()
konum: Samba.Persistance.Data.Migrator.DoMigrate(String connectionString)
konum: Samba.Persistance.Data.Migrator.DoMigrate(CommonDbContext context)
konum: Samba.Persistance.Data.Initializer.AskMigrate(CommonDbContext context)
konum: Samba.Persistance.Data.Initializer.InitializeDatabase(DataContext context)
konum: System.Data.Entity.Internal.InternalContext.<>c__DisplayClassf1.<CreateInitializationAction>b__e() konum: System.Data.Entity.Internal.InternalContext.PerformInitializationAction(Action action) konum: System.Data.Entity.Internal.InternalContext.PerformDatabaseInitialization() konum: System.Data.Entity.Internal.LazyInternalContext.<InitializeDatabase>b__4(InternalContext c) konum: System.Data.Entity.Internal.RetryAction1.PerformAction(TInput input)
konum: System.Data.Entity.Internal.LazyInternalContext.InitializeDatabaseAction(Action1 action) konum: System.Data.Entity.Internal.LazyInternalContext.InitializeDatabase() konum: System.Data.Entity.Internal.InternalContext.ForceOSpaceLoadingForKnownEntityTypes() konum: System.Data.Entity.DbContext.System.Data.Entity.Infrastructure.IObjectContextAdapter.get_ObjectContext() konum: Samba.Infrastructure.Data.SqlData.EFWorkspace..ctor(CommonDbContext context) konum: Samba.Persistance.Data.WorkspaceFactory.Create() konum: Samba.Presentation.Services.Common.DataGeneration.DataCreationService.get_Workspace() konum: Samba.Presentation.Services.Common.DataGeneration.DataCreationService.ShouldCreateData() konum: Samba.Presentation.Services.Common.DataGeneration.DataCreationService.CreateData() konum: Samba.Presentation.ClientLibrary.Modules.SettingsModule.SettingsViewModel.ForceConnectionUpdate() C:\Users\vehbi\Source\Repos\sambapos-v5-pro\Samba.Presentation.ClientLibrary\Modules\SettingsModule\SettingsViewModel.cs içinde: satır 471 konum: Samba.Presentation.ClientLibrary.Modules.SettingsModule.SettingsViewModel.OnApplyConnection(String obj) C:\Users\vehbi\Source\Repos\sambapos-v5-pro\Samba.Presentation.ClientLibrary\Modules\SettingsModule\SettingsViewModel.cs içinde: satır 371 konum: Microsoft.Practices.Prism.Commands.DelegateCommand1.<>c__DisplayClass6.<.ctor>b__2(Object o)
konum: Microsoft.Practices.Prism.Commands.DelegateCommandBase.Execute(Object parameter)
konum: Microsoft.Practices.Prism.Commands.DelegateCommandBase.System.Windows.Input.ICommand.Execute(Object parameter)
konum: MS.Internal.Commands.CommandHelpers.CriticalExecuteCommandSource(ICommandSource commandSource, Boolean userInitiated)
konum: System.Windows.Controls.Primitives.ButtonBase.OnClick()
konum: System.Windows.Controls.Button.OnClick()
konum: System.Windows.Controls.Primitives.ButtonBase.OnMouseLeftButtonUp(MouseButtonEventArgs e)
konum: System.Windows.UIElement.OnMouseLeftButtonUpThunk(Object sender, MouseButtonEventArgs e)
konum: System.Windows.Input.MouseButtonEventArgs.InvokeEventHandler(Delegate genericHandler, Object genericTarget)
konum: System.Windows.RoutedEventArgs.InvokeHandler(Delegate handler, Object target)
konum: System.Windows.RoutedEventHandlerInfo.InvokeHandler(Object target, RoutedEventArgs routedEventArgs)
konum: System.Windows.EventRoute.InvokeHandlersImpl(Object source, RoutedEventArgs args, Boolean reRaised)
konum: System.Windows.UIElement.ReRaiseEventAs(DependencyObject sender, RoutedEventArgs args, RoutedEvent newEvent)
konum: System.Windows.UIElement.OnMouseUpThunk(Object sender, MouseButtonEventArgs e)
konum: System.Windows.Input.MouseButtonEventArgs.InvokeEventHandler(Delegate genericHandler, Object genericTarget)
konum: System.Windows.RoutedEventArgs.InvokeHandler(Delegate handler, Object target)
konum: System.Windows.RoutedEventHandlerInfo.InvokeHandler(Object target, RoutedEventArgs routedEventArgs)
konum: System.Windows.EventRoute.InvokeHandlersImpl(Object source, RoutedEventArgs args, Boolean reRaised)
konum: System.Windows.UIElement.RaiseEventImpl(DependencyObject sender, RoutedEventArgs args)
konum: System.Windows.UIElement.RaiseTrustedEvent(RoutedEventArgs args)
konum: System.Windows.Input.InputManager.ProcessStagingArea()
konum: System.Windows.Input.InputManager.ProcessInput(InputEventArgs input)
konum: System.Windows.Input.InputProviderSite.ReportInput(InputReport inputReport)
konum: System.Windows.Interop.HwndMouseInputProvider.ReportInput(IntPtr hwnd, InputMode mode, Int32 timestamp, RawMouseActions actions, Int32 x, Int32 y, Int32 wheel)
konum: System.Windows.Interop.HwndMouseInputProvider.FilterMessage(IntPtr hwnd, WindowMessage msg, IntPtr wParam, IntPtr lParam, Boolean& handled)
konum: System.Windows.Interop.HwndSource.InputFilterMessage(IntPtr hwnd, Int32 msg, IntPtr wParam, IntPtr lParam, Boolean& handled)
konum: MS.Win32.HwndWrapper.WndProc(IntPtr hwnd, Int32 msg, IntPtr wParam, IntPtr lParam, Boolean& handled)
konum: MS.Win32.HwndSubclass.DispatcherCallbackOperation(Object o)
konum: System.Windows.Threading.ExceptionWrapper.InternalRealCall(Delegate callback, Object args, Int32 numArgs)
konum: System.Windows.Threading.ExceptionWrapper.TryCatchWhen(Object source, Delegate callback, Object args, Int32 numArgs, Delegate catchHandler)
Inner Exception 1
Type: System.Data.SqlClient.SqlException
Message: Column names in each table must be unique. Column name 'TenderedAmount' in table 'dbo.Payments' is specified more than once.
Source: .Net SqlClient Data Provider
Stack Trace: konum: System.Data.SqlClient.SqlConnection.OnError(SqlException exception, Boolean breakConnection, Action1 wrapCloseInAction) konum: System.Data.SqlClient.SqlInternalConnection.OnError(SqlException exception, Boolean breakConnection, Action1 wrapCloseInAction)
konum: System.Data.SqlClient.TdsParser.ThrowExceptionAndWarning(TdsParserStateObject stateObj, Boolean callerHasConnectionLock, Boolean asyncClose)
konum: System.Data.SqlClient.TdsParser.TryRun(RunBehavior runBehavior, SqlCommand cmdHandler, SqlDataReader dataStream, BulkCopySimpleResultSet bulkCopyHandler, TdsParserStateObject stateObj, Boolean& dataReady)
konum: System.Data.SqlClient.SqlCommand.RunExecuteNonQueryTds(String methodName, Boolean async, Int32 timeout, Boolean asyncWrite)
konum: System.Data.SqlClient.SqlCommand.InternalExecuteNonQuery(TaskCompletionSource`1 completion, String methodName, Boolean sendToPipe, Int32 timeout, Boolean asyncWrite)
konum: System.Data.SqlClient.SqlCommand.ExecuteNonQuery()
konum: FluentMigrator.Runner.Processors.SqlServer.SqlServerProcessor.ExecuteNonQuery(String sql)
---
[Assembly Info]
mscorlib, Version=4.0.0.0
Samba.Services, Version=1.0.0.0
Samba.Domain, Version=1.0.0.0
Samba.Infrastructure.Data, Version=1.0.0.0
System.ComponentModel.Composition, Version=4.0.0.0
Samba.Presentation.Services, Version=1.0.0.0
System.Core, Version=4.0.0.0
PresentationCore, Version=4.0.0.0
WindowsBase, Version=4.0.0.0
DevExpress.Xpf.LayoutControl.v16.2, Version=16.2.13.0
System.Xml, Version=4.0.0.0
DevExpress.Xpf.Grid.v16.2, Version=16.2.13.0
System, Version=4.0.0.0
DevExpress.Xpf.Grid.v16.2.Core, Version=16.2.13.0
System.Xaml, Version=4.0.0.0
PresentationFramework, Version=4.0.0.0
Samba.Infrastructure, Version=1.0.0.0
Microsoft.Practices.Prism, Version=4.0.0.0
System.Runtime.Serialization, Version=4.0.0.0
Microsoft.Practices.Prism.MefExtensions, Version=4.0.0.0
DevExpress.Xpf.Core.v16.2, Version=16.2.13.0
System.Windows.Forms, Version=4.0.0.0
System.Drawing, Version=4.0.0.0
Samba.Persistance, Version=1.0.0.0
Stateless, Version=1.0.0.0
PropertyTools, Version=2012.4.14.1
Samba.Localization, Version=1.0.0.0
ReachFramework, Version=4.0.0.0
EntityFramework, Version=6.0.0.0
FluentValidation, Version=3.4.0.0
NCalc, Version=1.3.8.0
Microsoft.CSharp, Version=4.0.0.0
Omu.ValueInjecter, Version=2.3.0.0
Microsoft.Practices.ServiceLocation, Version=1.0.0.0
DevExpress.Data.v16.2, Version=16.2.13.0
WindowsInput, Version=1.0.4.0
---
[System Info]
Operating System
-Microsoft Windows 7 Professional
–CodeSet = 1254
–CSDVersion = Service Pack 1
–CurrentTimeZone = 180
–FreePhysicalMemory = 1305532
–OSArchitecture = 32-bit
–OSLanguage = 1055
–ServicePackMajorVersion = 1
–ServicePackMinorVersion = 0
–Version = 6.1.7601
Machine
-ACER
–Manufacturer = Acer
–Model = Aspire 5732Z
–TotalPhysicalMemory = 3219103744
–UserName = ACER\Acer
---